Location
Location
Muskoka High Speed Internet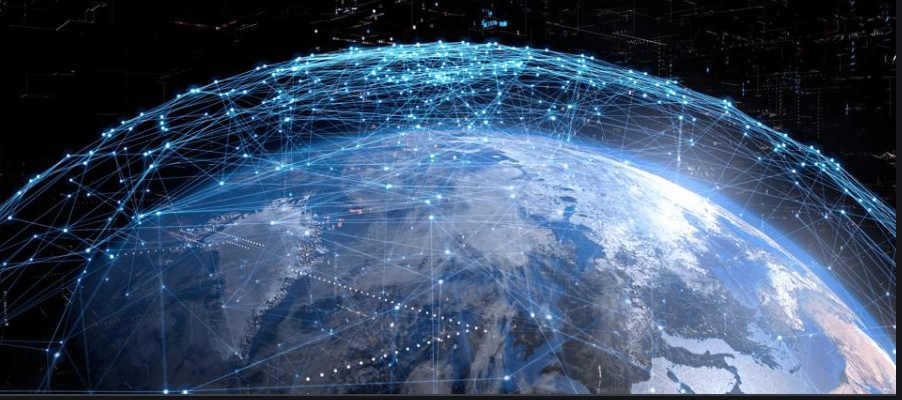 Starlink has arrived in Muskoka
For many years one of the biggest stumbling blocks to people working from the cottage in the Muskoka area is lack of good, reliable hi speed internet. The introduction Elon Musk's StarLink is a complete game changer. Finally there is true hi speed internet in rural areas with speeds previously only dreamed of.
We recently installed a Starlink system on our farm near Magnetawan so we thought we would share a few tips we learned along the way.
Installation was very straight forward.  Basically you use the app to find a clear, unobstructed line of site from the dish to their network of satellites.  One of very important consideration when determining dish is how solid area is. Any movement at all can have big repercussions on how well the system performs. After mounting the dish you then find the best route to take the powered cable ( 75' or 100' depending on the system) from the dish to the router location in the house. Drill some appropriate holes, route the cable and plug it in!
There are, of course, several more nuances than this to the whole installation but that's basically it in a nut shell.
The dish is powered & has the ability to melt snow. This helps with potential service degradation in areas like Muskoka!.
Designed to operate in wet conditions; "it's hydrophobic and has a low affinity to water."
Circular dishes included is 100' of attached power over ethernet cable between Starlink and power supply. The Rectangular Starlink provides 75' of detachable power over ethernet cable between Starlink and router
Both systems include 6.5 ft standard Cat5e cable to go between the router and power supply
Many rural areas like Muskoka & Parry Sound can have extreme temperature swings, heavy snow and in areas such as Georgian Bay, very high wind speeds. Starlink has been engineered for all these conditions and from what we've seen with our system they got it spot on.
We've had several different internet providers including satellite, DSL and cell towers but this out shines them all. There's still the occasional outage but they're very short in duration.
The regular system costs just over $700.00 depending on options you choose with a monthly fee of $129. There is no contract and there are no data caps at this time. If you're interested you can find the Starlink website here. They also have Starlink Premium which users can expect download speeds of about 150-500 Mbps ( crazy fast) and latency of 20-40ms.
They also offer Starlink mobile and according to their website "Immediately access high-speed, low-latency internet on an as-needed basis at any destination where Starlink provides active coverage. CA$170/mo with a one-time hardware cost of CA$759."
Most of my real estate clients moving to the Muskoka or Parry Sound area require a consistent internet connection with stable upload / download speeds and Starlink certainly delivered.
Starlink Muskoka Coverage Map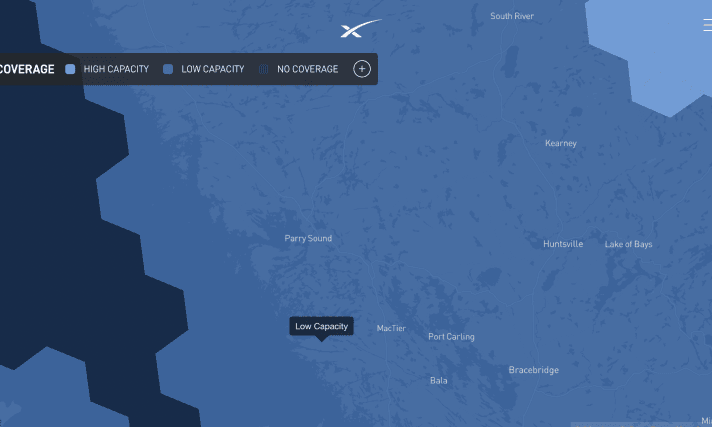 Internet Performance Highlights
We've seen not only great download speeds but also lightning fast uploads and very low latency. If you don't know what latency is just ask any gamer in your house, they'll inform you! I just ran a speed test and here's the numbers I got;
Download - 206 Mbps - Megabits per second
Upload - 14.5 Mbps - Megabits per second
Ping - 54 Ms
Jitter 22 Ms
********* Update- We've been using the Starlink system over a year now and it continues to be very impressive. Very little down times and continued lightning fast load speeds. Without question the best system to get in rural Muskoka.********